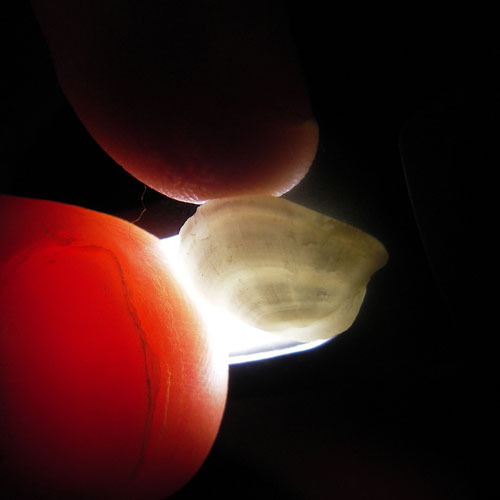 So, with a $466,000 grant from the National Science Foundation (NSF), the Burke's ichthyologists will transfer the entire collection of 2.4 million otoliths to the UW campus, replace the Styrofoam boxes with acid-free cardboard boxes and sort them on mobilized shelves in a fire-safe space near the existing fish collection. In addition, they'll catalog and digitize the massive amount of biological and physical data from the collection and publish it online in a searchable database and image gallery.
To help with the tedious task of handling two million pairs of tiny fish bones, Ted and Katherine hired a team of eager undergraduate students to go through the old dusty Styrofoam boxes (some even covered in pigeon poop!), catalog, transfer, relabel the specimens, then move the collection from the airplane hangar to the UW.
"They're so fast," Ted said referring to Rebecca Anderson, Josh Borin, Ross Furbush, Eric Harris, Jake Kvistad, Felicia Muncaster and Ellie Robbins—many of whom are continuing to work on the project through the school year. It's tedious and messy work, but the students are sorting the collection year-by-year and are already working on the otoliths collected in 2004.
"This is not only wonderful for science, but we're so excited for how it will support our students," said Ted referring to new student internship opportunities, increased access to the otoliths for UW biology classes, and public programs. In addition, Ted was able to recruit a new graduate student, Jeremy Harris, who comes to us with a M.S. degree from Loyola University Chicago, to help manage the project while also conducting otolith research as part of his doctoral dissertation.
By saving and sharing these specimens, the Burke Museum is adding to our library of biodiversity–a library that gets referenced all the time. Otoliths are of enormous value to today's researchers studying our natural and cultural history, with unlimited potential to aid future researchers in answering questions that haven't even been asked yet.
Learn More
Learn more about Jeremy's otolith research to prevent over-fishing of pollock in the Pacific Northwest in our QUEST Northwest article, "Fish Earbones Provide a Rare Glimpse into the Past and Future of Fisheries."
Article Source: Burke Museum