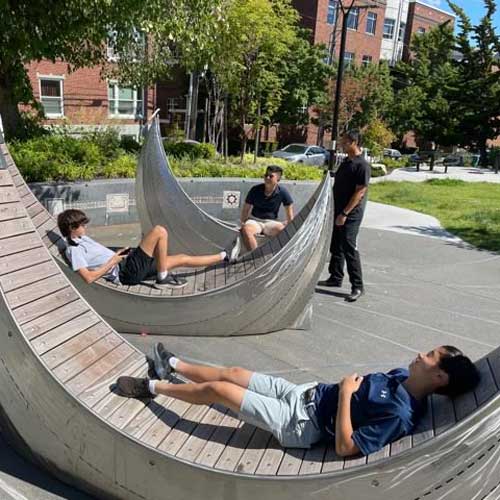 From Taiwan to Ivar's Salmon House to the Burke Museum
As Michael described it to me, the story of the Burke Museum's tatala started at Ivar's Salmon House, a prominent restaurant in the Seattle area, some 30 years ago. When he was dining there, he looked up and noticed that two of the canoes hanging on the ceiling were not from the Pacific Northwest but instead, came all the way from Pongso no Tao.
For years, Michael would go to the Ivar's and admire the tatalas hanging among other Northwest canoes. Around five years ago, he noticed that the two canoes were gone. Curious about where they went, Michael called Ivar's about it. They informed him that the tatalas were put into their warehouse in Georgetown, and offered to let him see them. Later he learned that the tatalas were obtained by Ivar Haglund, the founder of the restaurant, during a trip of his to Taiwan in the 1970s when he went to buy furniture for the Chinese Room in the Smith Tower (also owned by Ivar).
Michael purchased the two tatalas from Ivar's. Of these two tatalas, he donated the one in better condition to the Burke Museum, which is currently in the Culture Is Living gallery because he thought it would benefit the community.
Article Source: Burke Museum