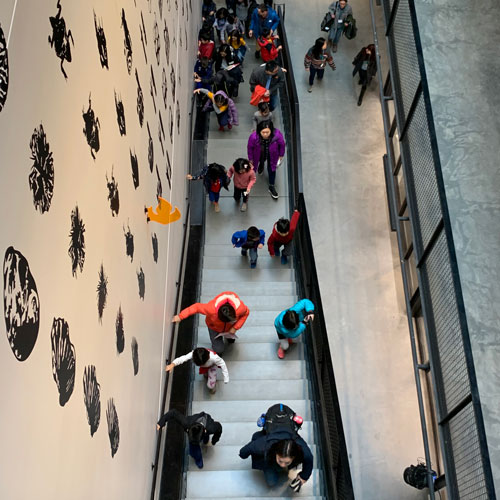 Covering all the bases
The next phase of the reaccreditation was a two-hour virtual site visit that took place in June 2021. This virtual site visit was completed by a team of AAM peer reviewers—composed of independent museum professionals who diligently reviewed our self-study, provided the evaluation, produced a conclusive report, and sent a recommendation to the accreditation commission to grant us accreditation. Pre-pandemic, site visits took place in-person and over the course of a couple of days. That format afforded more time and a visit that could be more free flowing. For example, if there is an area of interest or object in the collections that captures the AAM committee's attention there's a chance to discuss further and examine best practices.
Since our reaccreditation process took place throughout the COVID-19 pandemic, we placed added care in moving to the new, virtual format. Through live videos we showcased our state-of-the-art facility, our collections, cutting edge research, and visible workrooms. We planned a tour route that started at our front door and included a full walk-through of our floors, galleries, and work spaces with unusual stops (like our quarantine room) along the way. We implemented Zoom best practices, stationed our collections staff with laptops to share insight and conversation, and made sure to account for any and all technical issues. We had thorough A/V support, completed dry runs and sound checks, and carried ample wireless headsets and microphones. As a result, the committee could meet staff, look around, direct the camera, and generate genuine conversation, dialogue, and exchange, which is a central part of the site visit.
Article Source: Burke Museum