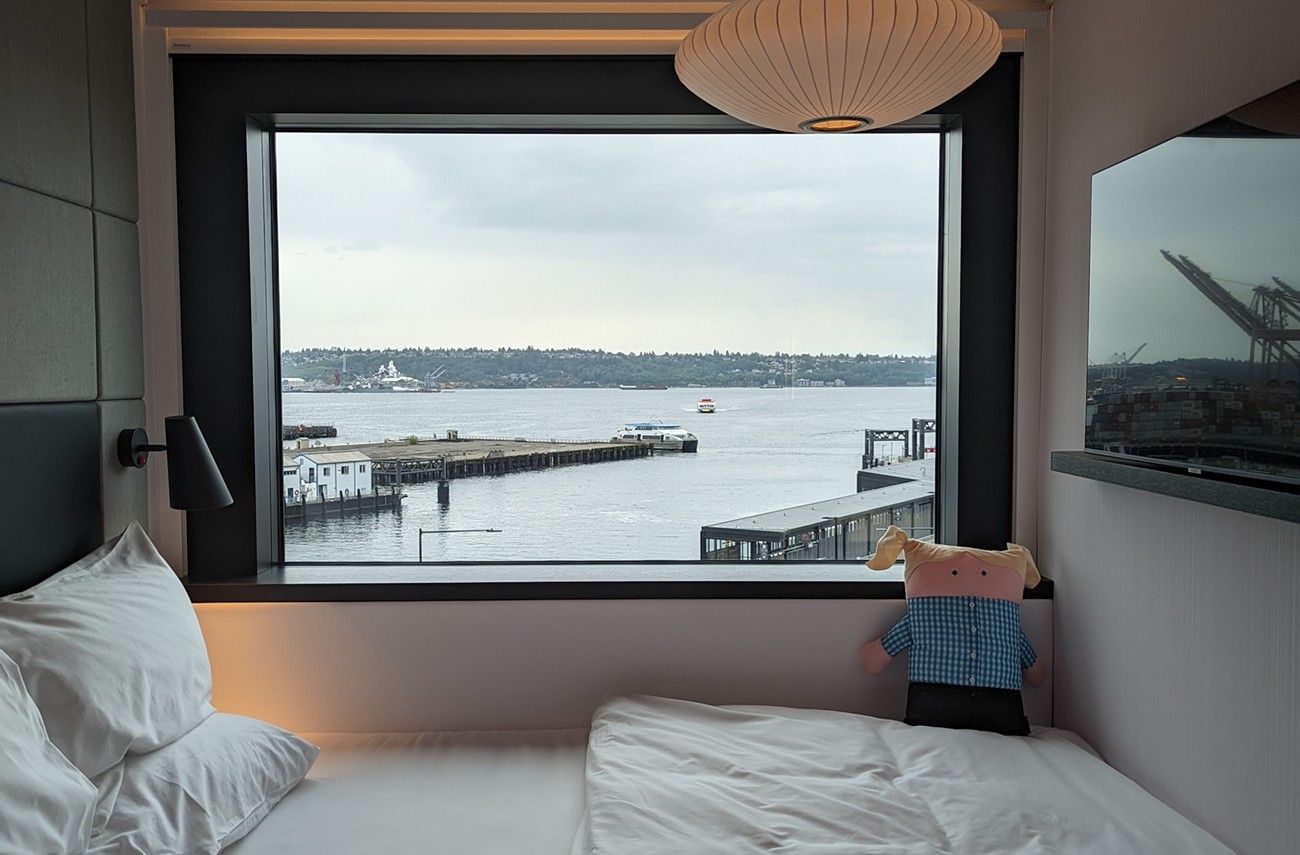 Utopia is never in the future or airy-fairy. It always here with us. It's always concrete.
New Paris is looking 🤌 https://t.co/BtrrVL8O84

— American Fietser (@AmericanFietser) June 16, 2022
That said, dystopia tends to be more concrete (and, sadly, more compossible) than utopia. Capitol Hill Seattle Blog reports that the QFC on Broadway has added a new dystopian level to the "modern grocery shopping experiences…" This has taken the form of "plexiglass barriers installed inside across the front entrance area of the Broadway Market store that show a new maze-like structure for shoppers to channel through when entering or leaving the store." The only hope for this development is that it's so extreme that actually draws tourists.
QFC welcoming Capitol Hill shoppers with new plexiglass grocery maze, its latest Broadway retail innovation https://t.co/s1ZGyKvVlF

— jseattle (@jseattle) June 16, 2022
This is truly remarkable. This weekend will be cold. We are in the second half of June. You can still wear a sweater. In the words of Roxy Music: "There's nothing more than this."
🥶 COLD WEEKEND AHEAD 🥶

High temperatures will slump into the upper 50s tomorrow amid a healthy shot of rain—and only edge into the lower 60s on Saturday & Sunday.

Normal highs this time of year are in the low 70s

— Seattle Weather Blog (@KSeattleWeather) June 16, 2022
On August 1, the former executive of KEXP, Tom Mara, will become SIFF's new executive director. Seattle Times has this story.
Local soccer fans learned today that Seattle will be one of 10 US cities to host the 2026 World Cup. Kansas City was also picked. (Sorry, I have almost no interest in soccer—or, correctly, football. Human feet have none of the intelligence, the sophistication, the conceptual power of our hands.)
Cancelled is a gun show that was to take place this Friday at Everett's Angel of the Winds Arena. The reason? The location is also hosting "multiple Everett Public Schools graduations." Herald Net: "Gun show [and graduations] were to be held in the building at the same time." The organizers decided to reschedule the gun event because 'of the potential for bad optics and conflict.'"
"Wetsuits, helmets and lifejackets" were not enough to protect the lives of two people who fell into Nooksack River while rafting earlier this week. Their bodies were caught by the furious water. It sent them to their deaths. Their bodies have been recovered.
The Trump-mad wife of Supreme Court Justice Clarence Thomas, Virginia "Ginni" Thomas, is apparently eager to "appear before the congressional committee investigating the Jan. 6, 2021, attack on the U.S. Capitol." She is under the impression that her testimony will "clear up misconceptions" like that. Those emails and texts that tried to kill what remains of American democracy? You got it all wrong. Try to see it her way, America.
The rat to cat: Let me explain why I'm in the kitchen.
The lawyer who wrote the script for the coup, John Eastman, also sought a pardon from Trump after the January 6 coup failed and it was clear Trump had run out of options to keep power. Eastman and Ginni Thomas also exchanged emails.
Meanwhile in Georgia: This is so on-brand for a Republican.
10-year-old son of Mr. Walker's with whom he is not in contact.

Herschel Walker, the Republican nominee for Senate in Georgia, who has been a frequent critic of absentee fathers, especially in Black households, has acknowledged that he is the father of a second son he had not previously mentioned publicly, as well as an adult daughter who was born when he was in his early 20s.
Walker, who wants a universal ban on abortions, has had no contact with his 10-year-old son. He also has a secret daughter. The GOP. The GOP.
Clouds, rain, cool temperatures, June. Let's end PM with Loscil's utterly gorgeous and utterly Pacific Northwest "Fern and Robin":
Article Source: https://www.thestranger.com/slog-pm/2022/06/16/75184212/slog-pm-qfc-introduces-plexiglass-maze-virginia-ginni-thomas-eager-to-explain-her-seditious-texts-to-jan-6-committee-cold-weekend-ahead