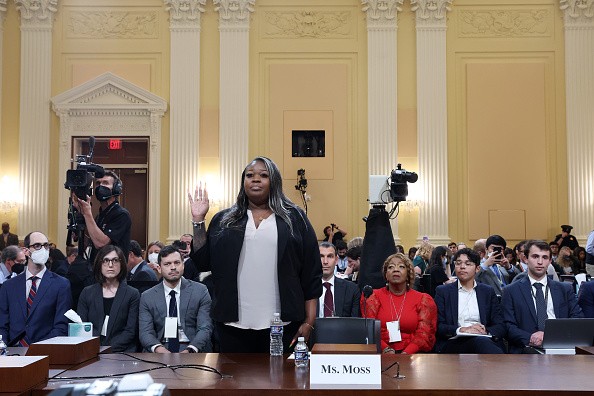 In today's episode of America's Next Top Insurrectionist: Election officials from battleground states testified to the January 6th committee. They described threats and intimidation they suffered as a result of Trump's public demagoguery. They also recounted suffering harassment both online and in person, including death threats and at least one incident involving an armed man taunting the family of the Republican Speaker of the House in Arizona after he refused to cooperate with Trump's fake electors scheme.
Say it louder for the conspiracy theorists in the back:
"There were no votes to find."

Georgia Secretary of State Brad Raffensperger testifies to the Jan. 6 panel about then-President Donald Trump's phone call asking him to "find 11,780" votes that could flip his state to prevent Joe Biden's election victory. https://t.co/8U8DtLg8r8 pic.twitter.com/d9RxkKLCEw

— The Associated Press (@AP) June 21, 2022
Want to do more than watch Congress document our crumbling democracy? Check out the latest update on RunForSomething's Clerk Work project, which aims to recruit and support pro-democracy candidates for local election administrator positions.
In case you think all this election denialism coverage is old news: Grace Panetta from Business Insider is here to tell you exactly how wrong you are. Conspiracy theorists on a local election commission almost managed to sabotage a recent primary election in New Mexico when they refused to certify the results. A court order finally got them to do their jobs, but the pervasive nature of these conspiracy theories presents a real threat to elections across the country.
An update on threats to Anacortes Pride from my colleague, Hannah Krieg:
On Saturday, Oak Harbor PD arrested Tyler Dinsmoor, who allegedly threatened queer people and the Anacortes Pride celebration online. But those allegations didn't do him in. The cops arrested Dinsmoor for yelling a homophobic threat at a woman on Whidbey Island, who said she was especially scared she because heard Dinsmoor once pointed a gun at her neighbor's nephew, who is Black.

As of Tuesday morning, more than 250 Dinsmoor supporters had donated over $19,000 to crowd fund his bail of $1.5 million on the fundraising platform GiveSendGo.

When GiveSendGo infamously allowed online fundraisers to bail out those associated with the Jan. 6 insurrection, Stripe, which runs credit card processing for the website, stopped providing services to funds related to the riot, as it violates their policies against promoting celebrations of violence against people or groups. I emailed Stripe to see if the company planned to pull out of this particular fundraiser – after all, it is Pride month – and I have not heard back.
Thanks, Hannah!
Let's give the City Attorney's Office a round of applause: We do our fair share of criticism of Republican Ann Davison's management of the city's Law Department here on the Slog, but we also give credit where it's due. Today, the lawyers in Davison's Civil Division prevailed against the Chamber of Commerce's attempt to repeal the City's JumpStart progressive payroll tax. The City had already beaten the Chamber in trial court; today's opinion from the Court of Appeals upheld that victory after the Court conducted its own review of the Chamber's arguments and found them unconvincing.
The Dept. of Health has resources for parents still impacted by the formula shortage:
If you're still struggling to find baby formula during the shortage, please know we have the resources to help.

We want all caretakers to be able to safely take care of their infants: https://t.co/hGfryiWvv9

— Office of Dr. Umair A. Shah, WA Sec of Health (@WaHealthSec) June 21, 2022
Texas Dept of Public Safety Director throws down on Uvalde police response: In a public hearing today, the head of the state's DPS called the law enforcement response to the school shooting an "abject failure." According to his testimony, there was a "sufficient number of armed officers wearing body armor to isolate, distract and neutralize the subject" THREE MINUTES after he entered the building. Instead, teachers and children waited more than an hour for rescue. The worst part? He confirmed the door the cops waited to get a key to open couldn't even be locked from the inside.
SCOTUS screws over Hanford contractors, but WA policymakers were ready: In one of their many terrible non-abortion-related decisions today, the Supreme Court invalidated a 2018 Washington law giving workers' compensation to people who experience negative health effects from working to clean up radioactive waste at the Hanford facility in Richland. Attorney General Bob Ferguson and Rep. Gerry Pollett, who also serves as the director for the largest Hanford cleanup watchdog group, were prepared for the decision. They got a replacement law passed this year that addresses the Supreme Court's technical issues with the original measure and that guarantees health coverage to all workers at the Hanford site.
Violence on the rise in Seattle's South End streets: Nope, it's not another spate of shootings. This time, the City's poorest neighborhoods made headlines for the disproportionate share of traffic fatalities occurring on their roads. David Kroman has the full rundown of the first "Vision Zero" presentation to the City Council this year over at the Seattle Times.
I know we usually save the election results recap for Wednesday morning, but:
Rep. Henry Cuellar has defeated Jessica Cisneros in a razor-thin #TX28 Democratic primary runoff by 0.64 points, Insider & @DecisionDeskHQ project. Cisneros has conceded in her second attempt at ousting the conservative, anti-abortion Dem https://t.co/Oob3RLXKP2 pic.twitter.com/tzHCUQ1Jr1

— Grace Panetta (@grace_panetta) June 21, 2022
Good to know the Democratic Party is a big enough tent to make room for incumbents who don't support abortion rights and who take thousands in campaign cash from the Koch brothers. Great stuff. Way to win. Have fun in 2022.
Another track from the Inside Outtakes that captures my conflicted relationship with our only option to avoid authoritarianism:
Article Source: https://www.thestranger.com/slog-pm/2022/06/21/75401645/slog-pm-election-workers-testify-to-jan-6th-committee-jumpstart-tax-survives-appeal-and-south-seattle-streets-still-disproportionately-dang