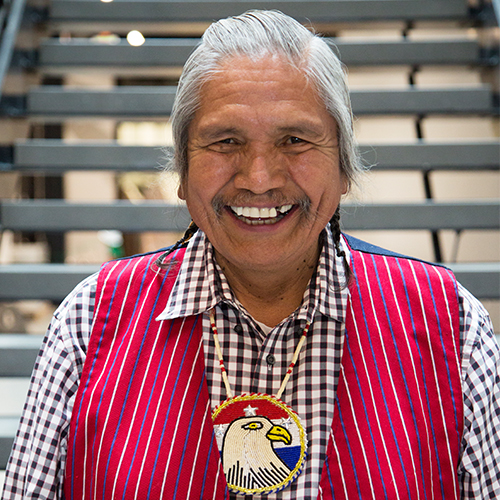 Rex's work extends to the entire community. He is the leader of the Wanapum Tribe and creator of the Wanapum Museum. Rex shares his expertise as a spiritual leader offering critical guidance on cultural stewardship to many agencies such as the US Army Corps of Engineers and Grant County PUD, to museums like the Smithsonian National Museum of the American Indian and the Smithsonian National Museum of Natural History.
"Rex takes care of the land, the fish, the animals; the heritage and culture of the Wanapum people; he takes care of Priest Rapids village; he takes care of the Ancestors; and he takes care of those he works with and those who come into his orbit. Rex has been a curator all of his life. Any good curator wants their work to be understood and continued by those who come behind us," said Jacqueline Cook, Repatriation Specialist for the Confederated Tribes of the Colville Reservation. "As a good curator, Rex teaches us how to continue to take care of all that is sacred. He never turns away anyone who wants to learn. He teaches and instructs in the most gentle and traditional way."
"As the Burke's first Tribal Liaison, it is important for me to continue Rex's work through consultation," said Polly Olsen (Yakama), Burke Museum Tribal Liaison and Director of Decolonization, Diversity, Equity, Access and Inclusion. "As the chairman of our Native American Advisory Board, he has raised Native peoples' voices, our presence, and our leadership in museum work. It's an honor to collaborate with Rex and carry on all of the hard work Rex and others have done in partnership with the Burke Museum."
As for the future of repatriation and tribal consultation, Rex so simply and powerfully stated: "One heart, one mind, be patient, move forward."
Reporters interested in high resolution images, please contact [email protected].
Article Source: Burke Museum