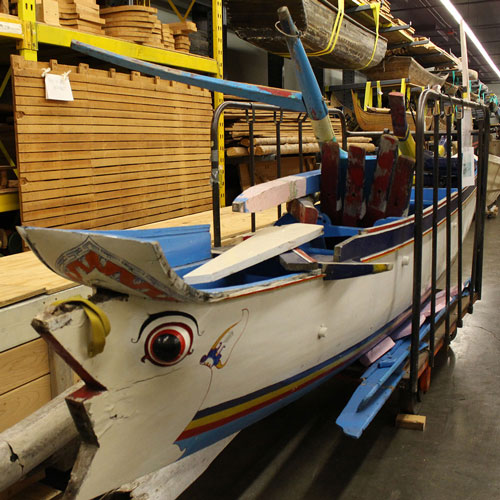 Eventually the jukung made its way to the Burke Museum collection where Peter Lape, Burke Museum Curator of Archaeology, took interest in learning more about the origins of this mystery boat—especially because jukung are disappearing from living tradition in Bali. For the past several years, he has been searching for insights into the Burke's jukung as a side project during trips to Indonesia for archaeological research.
In spring 2017, Peter traveled to the fishing village of Kusamba in Indonesia along with fellow Burke Museum curator Sven Haakanson, University of Washington (UW) anthropologist Celia Lowe, and Alfred Naumoff, an expert traditional kayak builder from Kodiak Island, Alaska.
They spent two days learning about boatbuilding tools, wood sources, and fishing methods as part of an effort to understand the history of boatbuilding in Kusamba alongside jukung builder Mohamad Bakri. With the help of Mr. Bakri, they were able to learn more about the Burke jukung's construction and the ingenuity and traditions that influenced its design.
Article Source: Burke Museum