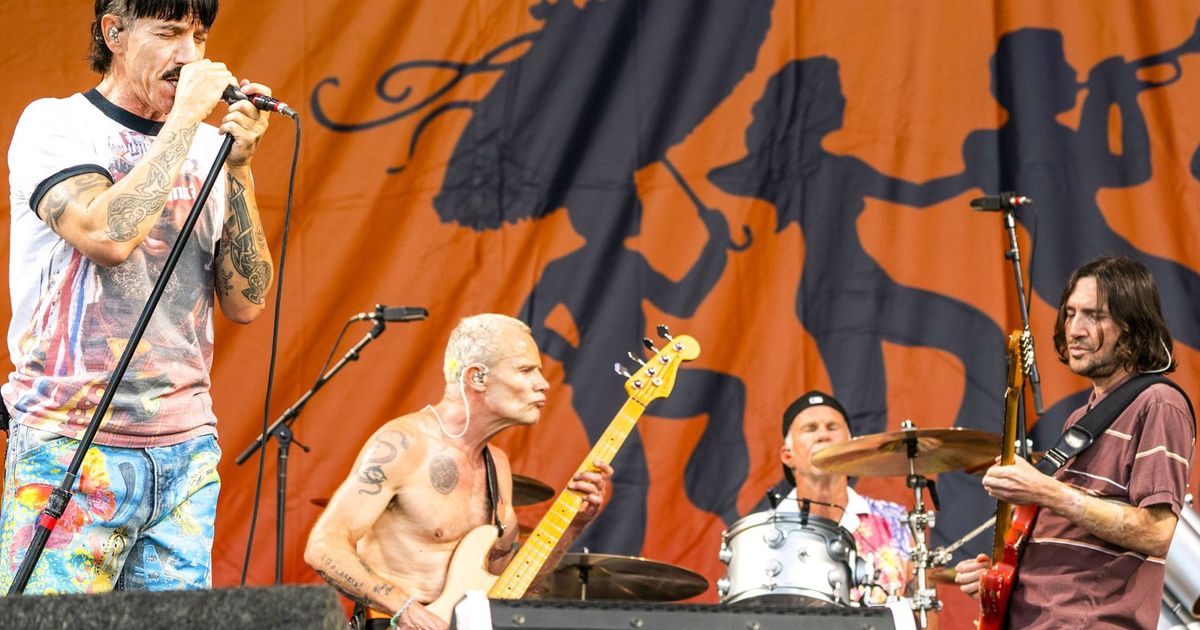 It's kinda fitting that this year's biggest summer rock tour is led by the band most synonymous with the state of California since the Beach Boys. Just a few dates into the North American leg of a monster stadium tour, Red Hot Chili Peppers pulled into Seattle's T-Mobile Park on Wednesday with a stacked lineup that got even more star power when a certain Seattle rock hero made a surprise appearance (more on that later).
The Los Angeles funk rock titans seem re-energized by the recent return of classic lineup guitarist John Frusciante, now on his third stint with the band. With a European swing already behind them, the quartet looked and sounded relaxed — as relaxed as a band employing the ever-intense Flea can get — in front of a packed stadium crowd. The perpetually shirtless Anthony Kiedis and the wild man bassist joked and jammed between some of the band's most recognizable hits and choice album cuts, including a handful of newbies from this spring's "Unlimited Love."
The good-vibes-only affair alternately felt like a living room jam session at the rowdiest of house parties and a beach bonfire singalong with tens of thousands of strangers turned best buds. (At least until the brisk Northwest air eventually forced Kiedis and Flea to put their shirts on.)
After limbering up early on with one of their freakier new ones, "Aquatic Mouth Dance," which lacked the pizazz of the recording's New Orleans-style horn section, Kiedis and company eased into one of their staple easygoing rock anthems, "Snow (Hey Oh)," off 2006's "Stadium Arcadium." The song's familiar warmth wrapped around the rapt crowd like a beach blanket at sunset, with Frusciante's gentle, ocean-breeze riffs that could make palm trees appear out of thin air. Of all the Chilis' soul-easing classics deployed throughout the night, none brought a collective sense of comfort quite like this one.
"There was something extra lovely about your energy out there," Kiedis remarked afterward.
Frusciante's return, coupled with pandemic downtime, seems to have sparked a creative burst from the band. Hot on the heels of April's 17-track "Unlimited Love," RHCP recently announced what they're describing as a second double album, "Return of the Dream Canteen," will arrive this fall. About a third of the band's set, which was backloaded with hits, was culled from "Unlimited Love." The new songs were largely wrapped into an up-and-down midsection with a few choice album cuts, including an earth-scorching surprise in "Me and My Friends" — a maniacally rowdy partyball Flea dedicated to Seattle's left-handed guitar-playing giants, Jimi Hendrix and Kurt Cobain, who he called two "transcendent dudes."
It wasn't the only nod to hometown rock heroes that night. RHCP and Pearl Jam have been longtime band buddies since the L.A. rockers brought PJ and Nirvana on a formative (and now legendary) tour in the early '90s. Eddie Vedder recruited RHCP drummer Chad Smith and former Chili-turned-PJ touring member Josh Klinghoffer for his recent Earthlings band.
With Pearl Jam between tour legs, an appearance from the down-to-jam Vedder — who's never opposed to a ballpark cameo with some of his rock legend friends — seemed highly possible. But the Vedder pop-in actually came during an opening set from NYC post-punk revivalists The Strokes.
The Pearl Jam frontman casually walked on stage to a delayed reaction from the crowd, which took a second to jump up from their seats after realizing the unassuming dude in a ball cap was Eddie freakin' Vedder. Together, Vedder and The Strokes blasted through the band's menacing, surf-punky "Juicebox," with Vedder's iron-fist belting strengthening the punch alongside Julian Casablancas' signature howl-croon. Vedder's voice showed no sign of the smoke damage from wildfires in France that forced Pearl Jam to cancel several European dates last month.
"[Expletive] legend!" Casablancas exclaimed afterward. "We just texted like five minutes before the show, too. He sings that better than anything I will ever sing in my life."
From there, the crowd never sat back down as The Strokes, who brought a sizable contingent of fans themselves, delighted with signature tunes like "New York City Cops" and a sprightly "Someday," despite omitting their biggest hit, "Last Nite."
Making for a killer three-band bill, cosmic funk lord Thundercat started the show with an unusually LOUD set for an opening act. At the risk of sounding like Earth's oldest, most boring man, the aggressively high volume didn't do the progressive bass wizard's faster songs justice in a half-empty stadium as fans trickled in. (And I say this as a guy who's always kind of in a doom metal "phase.") As a result, his immaculate runs that wondrously pack tons of notes into tight spaces came out cacophonous at times.
As the evening wound down, RHCP segued "Unlimited Love" lead single "Black Summer" into a closing run of some of their biggest hits. While some of the newer stuff drew mixed reactions from the crowd — the plight of any legacy band, especially one whose latter years are more defined by its enduring and inescapable singles than albums — the soothing jam fits comfortably among the best of the Rock & Roll Hall of Famers' time-tested melodic rockers.
After "Californication" and an extra rollicking "Give It Away," the Chilis encored with anthemic renditions of "Soul to Squeeze" and "By the Way" that'll have 'em rolling around in our heads for another few decades.
Long may rock 'n' roll's California kings of summer reign.
Article Source: The Seattle Times