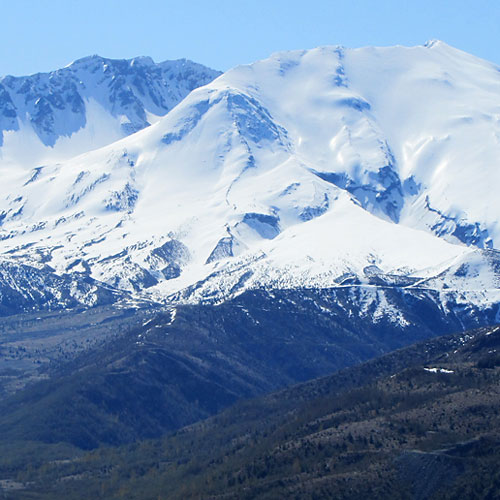 What do you remember about the eruption?
"On Sunday, at 5:05 A.M., I boarded the first flight for Seattle. Unknown to me, 27 minutes into the flight, the volcano in Washington erupted. Somewhere over eastern Montana, the pilot informed us that Mount St. Helens had blown its stack and that we were going to make a detour. I was shocked motionless, my mind frozen. Slowly, the gears of my mind gradually engaged, although I could only mutter to my seat mate who asked if I could believe it. Yes, I believed it alright. I was wondering how this would change my life…I had no doubt that it would.
We did indeed detour to avoid the dense ash plume that would soon cover the Columbia Basin and beyond. We flew south of our planned course by 150 miles, then well out to sea, then around back to land at Sea-Tac from the north. The ash plume was astonishing."
—Dr. Roger del Moral, Professor Emeritus of Biology at the University of Washington, was on a flight from Indianapolis to Seattle when the eruption happened.
"The eruption was my first memory. I had just turned 3 years old and my parents, brother, and brother's best friend were camping at the base of Mt St Helens. My father, an avid hiker, mountaineer, and outdoorsman to this day, heard that it may erupt. Hearing this, and wanting to get closer, we drove from our home on Vashon Island towards the mountain.
I remember snippets from our trip: a campsite with barren ground and very tall bare-trunk evergreen trees, and the neighboring campers playing drums. When the eruption started, I remember it getting very dark, very quickly and sitting on my mother's lap in the front seat of our VW Van as we fled our campsite. As I was sitting on her lap, I remember playing with a small embroidered change purse while rocks hit the top of our van. Outside, our van was engulfed in a cloud of brown dirt and dust with no visibility. My parents later told me that they soaked my clean cloth diapers in water and used them as face masks until we were safely away from the eruption."
—April K., Seattle, who was camping at the base of Mount St. Helens when it erupted.
"For about a month leading up to the day of the big eruption, there had been a lot of media (newspaper and radio back then) coverage of the earthquakes, rumblings and smaller volcanic events happening at Mt. St. Helens. When we heard about the eruption we (about ten customers and staff) all went outside and stood in the middle of the street on The Ave in the U District watching the huge plume of ash rising in the southern sky. It was awe inspiring…a scene I knew I would never witness again. We knew it was a huge event, we knew there were people who were trapped and at least one person who had decided to stay on the mountain. We thought of them."
—Miriam, Visitor Services/Store, Burke Museum
Article Source: Burke Museum