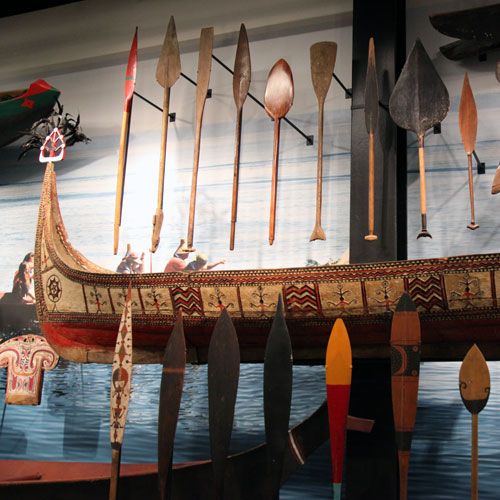 In Holly Barker's ANTH 369 "Indigenous Epistemologies & Oceanic Canoes" class, we learned the importance of amplifying and representing the strengths of minoritized communities and community members. You will see this reflected in the posters, as the canoe and canoe navigation is incredibly central and representative of the many diverse and resilient cultures and forms of STEAM knowledge used across the Pacific Islands.
We hope these posters will serve as both educational for non-Pacific Islander community members in decolonizing STEAM fields and, most significantly, as a medium to empower and encourage young Pacific Islander community members to reach their fullest potential and follow their dreams in pursuing STEAM fields with confidence in their heritage and ancestral knowledge.
—Anisah Ahmed, ANTH 369, "Indigenous Epistemologies & Oceanic Canoes"
"The canoe represents the power we have inside of ourselves, and the ancestors that live through us to find healing despite the violence of European influence, US imperialism, colonialism, and militarization. I think the knowledge embodied in the canoes shows that we have resilience."
—Tatyana Reuter, ANTH 369, "Indigenous Epistemologies & Oceanic Canoes"
Students in the Indigenous Epistemologies & Oceanic Canoes class researched topics, designed and produced posters, and collaborated with members of the local Pacific Islander community with knowledge in navigation and canoes.
These posters are free to be printed and shared widely, as they were created to emphasize the knowledge, culture, and contributions of Pacific Islanders that is rarely centered.
To download the full size PDF of a poster, click the button below each image.
Article Source: Burke Museum