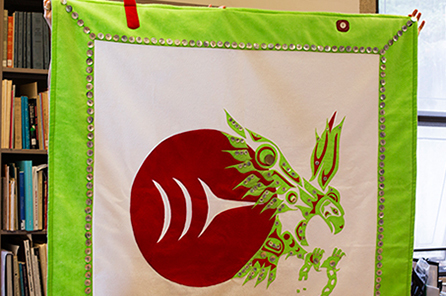 Bridget Johnson, assistant director of the Bill Holm Center for the Study of Northwest Native Art, and Andrea Godinez, Burke Museum public relations manager, attended the prison's annual powwow on July 28, 2018, where the students presented the blanket as a gift to the Burke. The powwow was a celebration with family and friends, along with the sharing of dances, songs, food and gifts the students worked on throughout the year.
Made of felt and abalone shells, the button blanket depicts an eagle emerging out of the Burke's logo, breaking out of its chains, with one wing representing a flame. This is a powerful statement of gratitude from the makers of the blanket.
"The men put a lot of thoughtful care into the creation of this beautiful blanket, we loved hearing about how they collaborated on the design and worked together to finish it," said Bridget. "We were just so honored to be invited to participate and share in the celebration."
The blanket will soon become part of the Burke's permanent Ethnology collection.
Article Source: Burke Museum