"The act of kneading clay and creating shapes connects me to the thoughts and memories deep in my heart."1

– Fujino Sachiko
Form 19-3, a new acquisition, is now on view in Folding Into Shape: Japanese Design and Crafts. It is a recent work by the Japanese artist Fujino Sachiko (born 1950), who began her art practice in textiles and fashion design, and later studied ceramics under the pioneering artist Tsuboi Asuka (born 1932). Inspired by the abstract ceramic works of avant-garde artists such as Yagi Kazuo (1918–1979), Suzuki Osamu (1926–2001), and Yamada Hikaru (1924–2001), Fujino ventured into ceramics, finding that the medium allowed her to express her artistic ideas most freely.2
Drawing on her background in fashion design, Fujino manipulates clay as if folding and shaping fabric. This sculpture's intricate form is built up from geometric shapes, and balanced with irregular folds in gradations of grey. The folds create beautiful silhouettes like those of a dress, such as the one by Issey Miyake also on view in Folding Into Shape. The elegant texture of the surface was created by the application of matte slip through an airbrush.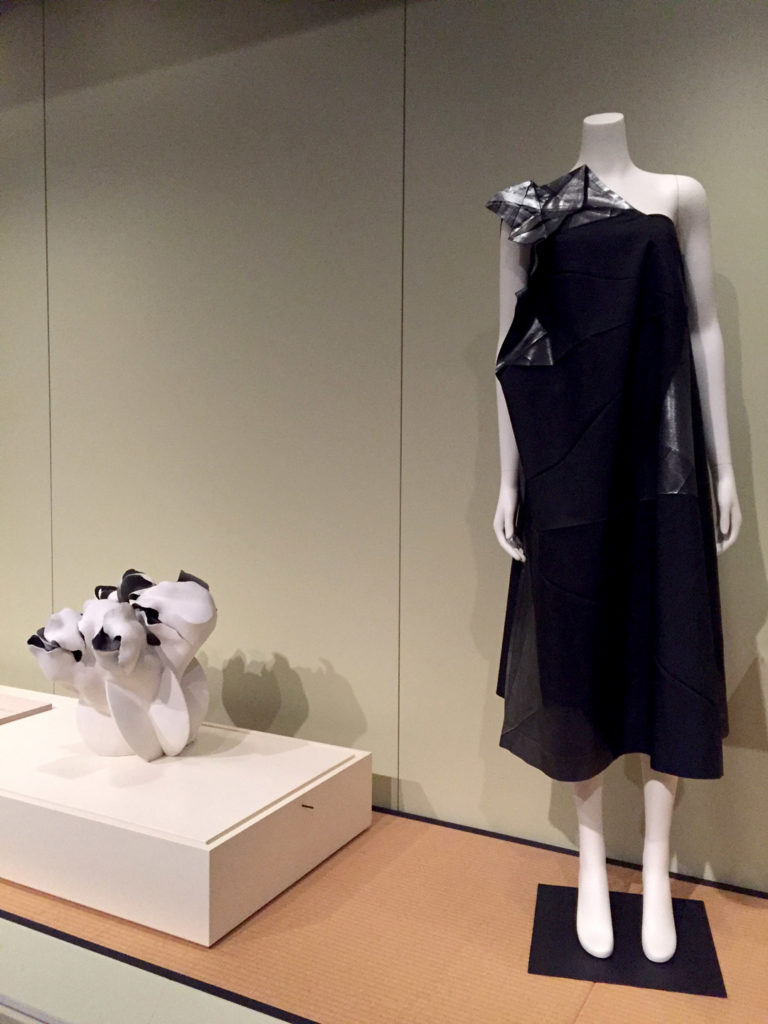 Fujino creates her clay sculptures through the laborious process of coil-building and hand-sculpting without the use of maquettes. With an aim to create works that have a dynamic appearance from different angles, she shapes the clay intuitively and does not know the final form of the work until it is complete. Many of her recent ceramic artworks began with geometric forms but turned into more organic forms in the process. While the biomorphic sculpture takes on a floral form, it also invites the viewer to think beyond petals and blossoms. The artist has remarked: "My interest in the mystery of plants has been deeply rooted since my childhood, even though my work is not a direct image of flowers." Indeed, seen from above, the sculpture evokes a painting by Georgia O'Keeffe.
– Xiaojin Wu, Atsuhiko & Ina Goodwin Tateuchi Foundation Curator of Japanese and Korean Art
---
1 Online exhibition catalogue, Forming a Voice, www.mirviss.com/exhibitions/forming-a-voice, p. 3.
2 Interview with the artist produced by Joan B Mirviss LTD in April 2021: https://vimeo.com/551679336.
Image: Form 19-3, 2019, Fujino Sachiko, Stoneware with matte glaze in white and gradations of grey, 19 1/2 x 18 1/8 x 17 3/4 in., Purchased with funds from Gordon Brodfuehrer in honor of the Monsen Family, 2021.19 © Artist or Artist's Estate.
Article Source: Seattle Art Museum