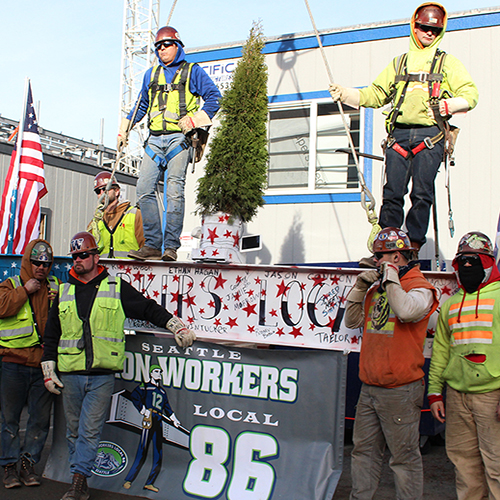 Ironworkers have carried on the Topping Out tradition and consider it their own, as their skills make them first to reach the pinnacle of a structure. Evergreen trees are still placed on the beams (which explains why you sometimes see Christmas trees on the top of buildings under construction), along with flags and other tokens.
The Seattle Ironworkers Local 86 and Skanska crew celebrated Topping Out on January 13. Last Friday, the Burke hosted a special ceremony for New Burke donors and partners, board members and museum staff.
The decorated beams will always be a reminder of the people whose hard work and generosity helped the New Burke rise from the ground up.
Watch the New Burke progress in this quick one-minute time-lapse video of construction from December 12, 2016 – February 3, 2017.
Article Source: Burke Museum