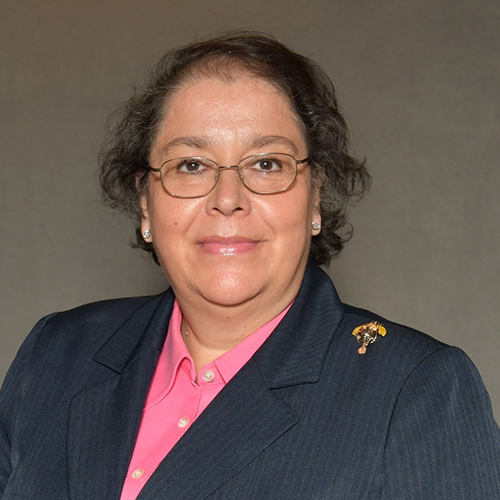 Dear Colleagues,
It is my great pleasure to announce that Dr. Gabriela Chavarria will join the University of Washington as the next executive director of the Burke Museum, effective March 1, 2022. Dr. Chavarria's experience as a museum administrator, scholar and visionary leader in the scientific community uniquely positions her to lead the Burke in its exciting next chapter.
Dr. Chavarria currently serves as the vice president and chief curator of the Science Division at the Denver Museum of Nature & Science, overseeing Scientific Collections, Scientific Research, and leading a team of 44 staff members, interns and volunteers. She brings more than 20 years of experience in managing teams of gifted professionals and innovative science programs, influencing policy, developing new scientific collections, and leading scientists in research efforts both nationally and internationally. Prior to joining the Denver Museum of Nature & Science, she was senior science advisor and forensic science branch chief at the U.S. Fish and Wildlife National Forensics Laboratory in Ashland, Oregon.
Dr. Chavarria received her bachelor's degree in biology from the National Autonomous University of Mexico (UNAM), and her master's and Ph.D. in organismic and evolutionary biology from Harvard University, where she studied under two-time Pulitzer Prize recipient Edward O. Wilson. Growing up in Mexico City, Dr. Chavarria developed a passion for nature and science at an early age, especially for bees. She has devoted her career to the conservation of native pollinators, especially bumble bees. Her recent work as a wood anatomist focused on fighting the illegal trafficking of tropical hardwoods. She has conducted research in more than 30 countries throughout the world and serves on several boards and advisory councils, including the American Institute of Biological Sciences, the National Parks Conservation Association, Defenders of Wildlife, The Nature Conservancy of Colorado, and the Doris Duke Conservation Scholars at the University of California, Santa Cruz.
I want to thank the Burke community for providing insightful and thoughtful feedback throughout this important search. I'm especially grateful to the members of the search committee and our partners at Campbell & Company for identifying outstanding candidates who brought their passion and enthusiasm to the search process. The exceptional nature of our candidate pool is a testament to the stellar reputation of the Burke and the tremendous efforts to further its mission to care for and share natural and cultural collections so all people can learn, be inspired, generate knowledge, feel joy, and heal.
On that note, I want to express my deep gratitude to Dr. Julie Stein for her leadership of the Burke over the past 16 years. Julie's vision has transformed the Burke Museum into a one-of-a-kind institution with an international reputation for excellence. Under her tenure, the Burke has deepened its relationship with Indigenous communities and furthered its commitment to equity, inclusion and access.
I am confident that the Burke is well-positioned for success as we welcome Dr. Chavarria to the Burke Museum and to the University of Washington.
Sincerely,
Dianne Harris
Dean, College of Arts & Sciences
Professor of History
Article Source: Burke Museum