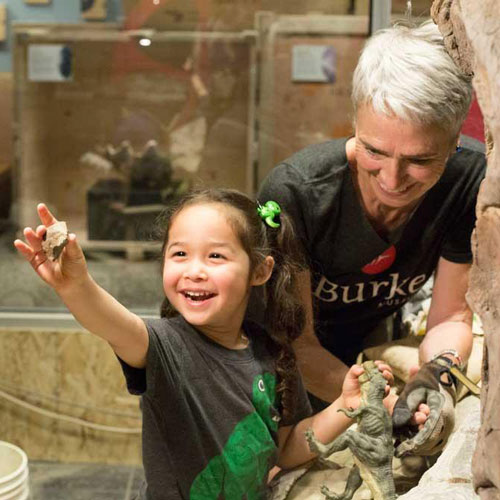 "There are my girls!" exclaims Burke Museum paleontology volunteer Jean (Prim) Primozich. She emerges from the Tyrannosaurus rex fossil prep lab and removes her dust-covered gloves as Shira, age 6, and Meredith, age 4, wrap their arms around her in a big hug.
The girls are decked from head to toe in dinosaur attire, right down to the barrettes holding their long dark hair in pigtails which feature prehistoric favorites. Shira and Meredith's mom, Lauren, holds the girls' carefully packed paleontologist toolkits—backpacks filled with a magnifying glass, hat, sunscreen, fossil brushes and, of course, fossil glue—ready to go at a moment's notice.
They've made many similar trips this past year since becoming Burke members, always making sure to come in the afternoons when Prim is there.
"I haven't seen you in so long," Prim says after recently returning from a month-long trip. "How are the dinosaurs at home?"
Article Source: Burke Museum