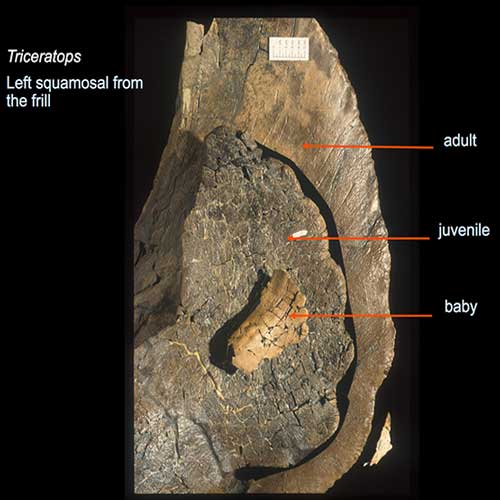 Our knowledge of the baby Triceratops is increasing, thanks to a recently-discovered baby Triceratops neck frill at the Burke.
On a blistering hot summer day in 2016, an international team of paleontologists were working in Montana's Hell Creek Formation—the most famous dinosaur excavation area in the world. Burke Museum Curator of Vertebrate Paleontology Greg Wilson leads the team for the Hell Creek Project, a multi-disciplinary project examining prehistoric vertebrates, invertebrates, and the geology of the area. Parts of the Hell Creek Formation are managed by the Bureau of Land Management, and Greg's team visits the area every year to collect new samples under a paleontological permit.
That fateful summer day, the team was exploring a section of Hell Creek that they hadn't returned to in 15 years. It was a few miles north of a ranch house, up and down ravines across the ranchland and into badlands. They were busy at work finding specimens like broken adult Triceratops skulls and prehistoric aquatic reptiles, when suddenly Ian Morrison, fossil preparator at the Royal Ontario Museum (ROM), called the team over. He was inspecting a little knob in the area that looked curious.
At first glance, it was determined to be a piece of an ordinary turtle shell, until members Mark Goodwin and Dave Evans looked it over and excitedly proclaimed it was much more than that. Mark, the Assistant Director at the University of California Museum of Paleontology (UCMP), was part of the team that discovered and described a complete baby Triceratops skull in 2006. Mark confirmed that the knob was indeed a frill that belonged to a baby Triceratops—making it only the fourth specimen of its kind ever found!
Article Source: Burke Museum