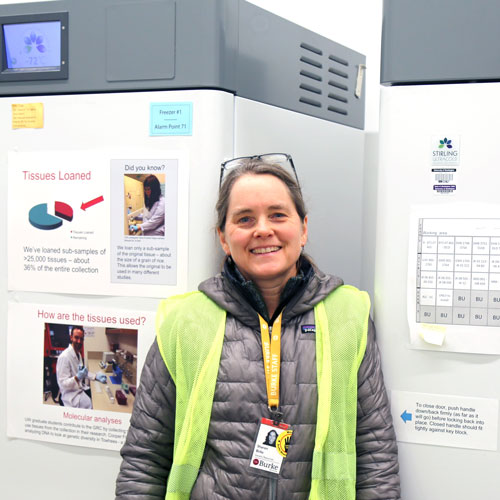 The collection is constantly growing. Tissue samples are added to the Burke collection by Burke curators, staff, students at the University of Washington, federal agencies, and other museums. While most samples are collected from deceased animals that are part of the permanent Zoology collections, some come from living animals like the wolverine population in the North Cascades and provide incredible insights at various intervals of the animal's life.
Each year, nearly 2,000 tissue sub-samples are sent from the Burke Museum to researchers studying questions related to evolution, human health and wildlife conservation management.
On this day the Genetic Resources Collection is moving a mere 480 feet from the former Burke Museum facility to the new Burke Museum facility recently erected next door. The New Burke offers something particularly special for Sharon and the rest of the Genetic Resources team: peace of mind.
Packed with ice
To be safely preserved, each sample is kept in a small plastic vial, then up to 81 vials are placed in a 5×5" box in racks inside an ultracold freezer kept at a chilly -80 degrees Celsius. Each freezer can hold more than 25,000 samples at full capacity. If the samples get too warm, their valuable insights are lost forever.
The poor condition of the Burke's former facility threatened this invaluable resource. Without adequate air conditioning, the hard-working freezers could overheat, and lack of emergency power during outages or natural disasters meant that one of the world's largest genetic tissue collections could still be lost in just 48 hours.
To prepare for the move, Sharon carefully packed each freezer with dry ice to alleviate the samples' fluctuation in temperature before powering off the machine and unplugging it from the wall.
That's when the clock started ticking and the move team jumped into action. The freezers would need to be plugged back in within an hour to avoid a significant dip in temperature, keeping the samples below -60 degrees Celsius.
ArtTech, the Burke's contracted mover, removed the doors to several rooms to clear a path to the freight elevator and rolled the freezers one at a time to the loading dock before transferring them into the truck, thankfully without any issues.
Article Source: Burke Museum