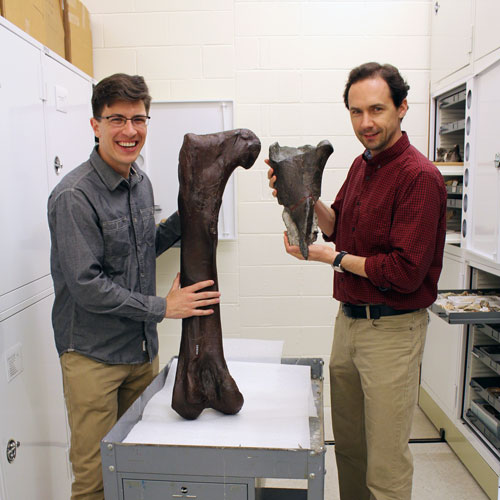 The clams found with the bone held the answer. They're so well preserved we can tell they're a species that lived in shallow water. So it's likely that after the dinosaur died, its carcass was tossed by the waves and eventually came to rest on the seafloor among these clams. The rest of the dinosaur was likely washed away or carried away by scavengers.
The ultimate test to confirm this was in fact Washington's first dinosaur fossil was submission of a formal manuscript and the peer review process. Sidor and Peecook submitted the description of the dinosaur to the scientific journal PLOS ONE, where reviewers confirmed their identification
In the end, all that hard work paid off. Washington is now the 37th state where dinosaurs have been found!
"The fossil record of the west coast is very spotty when compared to the rich record of the interior of North America," said Peecook. "This specimen, though fragmentary, gives us insight into what the west coast was like 80 million years ago, plus it gets Washington into the dinosaur club!"
Why did it take so long to find a dinosaur in Washington state? Dinosaurs are found in rocks from the time periods in which they lived (240-66 million years ago). Much of Washington was underwater during this period, so Washington has very little rock of the right age and type. Because dinosaurs were land animals, it is very unusual to find dinosaur fossils in marine rocks—making this fossil a rare and lucky discovery.
---
The Burke Museum is the Washington State Museum of Natural History and Culture. Burke Museum paleontologists were issued scientific collecting permits by Washington State Parks prior to excavating the fossil. Fossil exploration and collection on state land is legal only with proper permits issued for legitimate scientific research. Any items discovered in permitted scientific exploration are considered publicly owned and remain the property of Washington State Parks collections. The fossil is held in trust by the Burke Museum on behalf of State Parks.
Article Source: Burke Museum