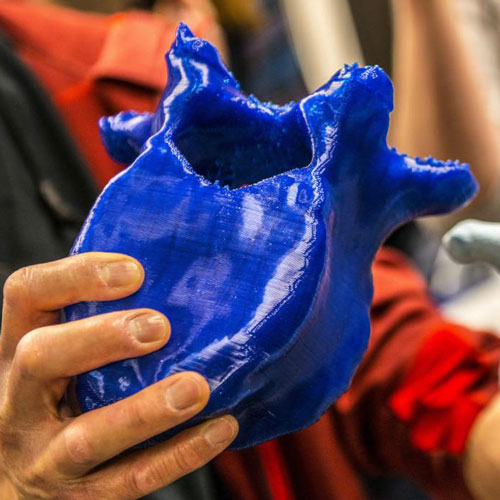 "These areas deal heavily with 3D renderings and scaled models testing within wind tunnels," he says. "So the experience I'm getting through this class with the wide variety of scanning equipment, modeling programs and printing technologies is helping me develop the knowledge and skills I'll need down the road."
Approximately 20 students have enrolled each quarter, ranging from first-year undergrads to graduate students. About half of them come from engineering departments: mechanical engineering, aeronautics and astronautics and human centered design and engineering. Others are from museology, geology, paleobiology, archeology and photomedia.
First-year pre-engineering student Kaiyu Shi has greatly valued the opportunity to collaborate with students from other disciplines. "Most of my classes are math and physics, so learning how students from other areas across campus approach a project like this has been eye-opening," he says.
Garrett Mercier, a museology graduate student, agrees.
"Together we figure out the best techniques," he says. "The engineering students often bring more knowledge about the technologies and equipment than the museum folks have, but we have the knowledge about the collections, the bones, their histories and importance. And we're all working together to come up with the best way to document and share them."
Scanning, compiling, printing
To complete the missing parts of the Richland mammoth, the class is scanning bones from other mammoths in the Burke's collection, as well as making mirror-image copies of bones that already exist from the Richland mammoth itself.
Scanning takes place at the Burke, where the bones are housed and scanned one at a time. Weiss says they plan about three hours of scanning time per small to medium-sized bones; larger specimens, like the skull, can take more than five hours.
3D scanning not only makes it possible to print replicas of missing bones and incomplete fossils, but the scans themselves also provide new and valuable data on the mammoth's anatomy. And since they're digital, the Burke will make them accessible online to researchers worldwide.
"Our goal is to provide a complete digital atlas of the mammoth — and eventually, other fossils — that can be used by researchers and the general public to answer research questions and for education," explains Rivin.
Once the data is captured, it is modeled for printing. To determine best print strategies, the class has worked closely with WOOF3D, a student-led 3D printing club in the College of Engineering. Some of the engineering students in the class, like Shi, are also members of WOOF3D where they design and build desktop-size and large-scale 3D printers. The club is currently prototyping Big Blue, a large-scale 3D printer with a 1.5 cubic meter build space to accommodate mammoth's larger bones, such as the skull, femur and jaw bone.
Although many of the larger pieces are on hold for Big Blue, the class has already 3D printed several smaller bones, such as the mammoth's vertebrae (back bones) and metatarsals (toe bones). Different printers yield different outputs, and so the class is constantly working to refine the finished products.
"In every scan and printed item, we aim for perfection," Weidner says. "'Good enough' doesn't cut it in engineering or in scientific research, and so we must ensure our final results are as close to the real thing as possible."
Ongoing partnership
Rivin and Weidner anticipate that the data digitization and 3D printing will continue to evolve over the next few years until the Richland mammoth is permanently displayed. Weidner wants to offer the course again next year; he's certain that every future step of the project will invite new challenges and problems to solve.
Rivin is particularly inspired by the students' grasp and application of advanced technologies. "They're fearless and curious," she observes. "They're not intimidated by the scope of the project or its hurdles but instead are eager for the challenges. They've approached this project like real professionals."
The Burke is eager to share its new mammoth data with institutions large and small. "We're fortunate to be a part of the UW community and, as such, have the opportunity to tap into the College of Engineering faculty and students' first-rate engineering expertise," Rivin says. "A lot of natural history museums don't have such a rich resource in their backyard, and we're thrilled to be able to collaborate in this way."
Article Source: Burke Museum