A total of 172 individuals have joined our "community" by participating in forays and over 12,000 specimens have been collected, most of them in triplicate for exchange with other herbaria. Collecting and documenting our regional flora has once again become an important mission of the Herbarium, with growth rates comparable to those of the Hitchcock years.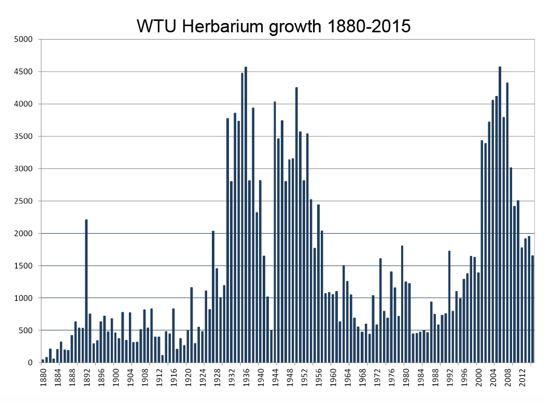 The development of a specimen database (subsequently integrated into a regional Consortium of Pacific Northwest Herbaria data portal) and an image library (with over 56,000 photos, species descriptions, and range maps) has led to a project to revise Hitchcock & Cronquist's Vascular Flora of the Pacific Northwest with an anticipated publication date in 2018.
The Foray has grown and matured in those 20 years, but its mission remains the same, and I look forward to the next 20 years of documenting our regional flora and finding new ways that information about the plants we collect for the Herbarium can be applied to both scientific research and projects that benefit the public.
___
Watch Richard's presentation about the 20th year of the Herbarium Foray Program here.
___
*Collections database funding supported by the Washington State Department of Natural Resources (DNR) and the National Science Foundation (NSF).
Article Source: Burke Museum