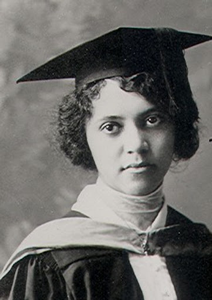 Alice Augusta Ball
Alice Augusta Ball was born in Seattle, grew up in Seattle's Central District, and graduated from Seattle High School and the University of Washington, receiving her undergraduate degrees in pharmaceutical chemistry in 1912 and pharmacy in 1914. Alice Ball was the first African American, and first woman to receive her Master in Science degree in chemistry from the University of Hawai'i. She was also the first woman to teach at the University of Hawai'i from 1914–1915.
Alice Ball researched the medicinal effects of kava root extracts for her master's thesis. She was able to separate the pain-relieving compounds of kava so they could be used in pharmacology. Ms. Ball also developed the "Ball Method" to treat Hansen's Disease, also known as leprosy, utilizing traditional Pacific Islander botanicals from the chaulmoogra tree. The Ball Method was a groundbreaking therapy for the disease. Ms. Ball was able to synthesize an injectable oil from the chaulmoogra tree that diminished symptoms in patients with Hansen's Disease. Alice Ball utilized traditional knowledge in conjunction with western pharmacology to alleviate human suffering, and she left the world too soon. Alice Ball's impacts and contributions are highly revered within the Black and African diaspora, Asian, Native Hawai'ian, and Pacific Islander diaspora, and women in science today. It cannot be stressed enough that women and femme-identifying people of color should be included, and appreciated for their contributions to science and cultural communities.
Alice Ball's contributions highlight the importance of Indigenous knowledge to our society. Western science is continually revised with Indigenous science, and we are recently understanding and appreciating these traditional applications in contemporary communities of practice. Today, climate science, health, ecology, and aquatic sciences, among others, recognize and embrace traditional knowledge and practices that are making positive impacts on sustainability.
Article Source: Burke Museum