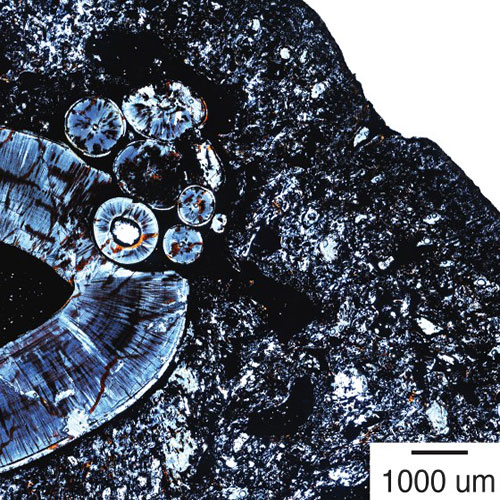 Mose prepared multiple thin slices from the gorgonopsian jaw — each only about as thick as a sheet of notebook paper—and mounted them onto slides. He and Whitney immediately noticed something unexpected within the jaw: embedded next to the root of the canine were irregular clusters of up to eight tiny, round objects.
At higher magnification under a microscope, Whitney discovered that the objects within each cluster resembled small, poorly differentiated teeth, or toothlets. The toothlets even harbored distinct layers of dentin and enamel.
"At first we didn't know what to make of it," said Whitney. "But after some investigation we realized this gorgonopsian had what looks like a textbook compound odontoma."
At 255 million years, this is by far the oldest reported evidence for an odontoma—and possibly the first case in a non-mammal. According to Sidor, odontomas have been reported in archaeological specimens, as well as fossilized mammoths and deer. But those cases all date to within the last million years or so. Since this synapsid had an odontoma, it would indicate that this mammalian condition existed well before the first mammals had evolved.
"This discovery demonstrates how the fossil record can tell us a lot about our present-day lives—even the diseases or pathologies that are part of our mammalian heritage," said Sidor. "And you could never tell that this creature had it from the outside."
—
Learn more: Frequently asked questions: odontoma in a gorgonopsian.
The research was funded by the National Science Foundation and a University of Washington Mary Gates Research Fellowship.
Article Source: Burke Museum