Arguably the greatest transformation the river experienced in recent history was wrought by human engineering. In the early 20th century, a series of major civil engineering projects diverted the comingled flows of three rivers out of the valley, lowered Lake Washington nine feet, shortened the river by four miles, dredged the river into a navigable waterway, filled in the old meanders, and built Harbor Island—the largest manmade island in the world at the time—by washing hillsides into the tide flats. This was largely undertaken for flood control efforts, navigation and commercial interests.
While the pace and scale of the industrialization of the Duwamish valley rivals that of any major city, it also came at a cost. To Coast Salish people, the expansive tidal mud flats and the wetlands adjoining the meandering river were a valuable resource. The channels, islands and shorelines were all populated with names that recorded sacred landscapes, uses, historical memories and meanings.
The engineered changes to Seattle's shoreline disrupted ecosystems, eliminated traditional food sources (including a productive salmon fishery) and completely reconfigured Coast Salish people's relationship with this place. The land became Seattle's industrial and commercial heartland and an engine of economic growth for the city. The factories built on top of the old meanders sustained a vibrant economy through two world wars, helping grow Seattle and the Pacific Northwest into what it is today.
The transformed valley continues to provide thousands of jobs. Major efforts are also underway to clean up the river to make the river safe for fish and people alike. The Duwamish Tribe, which plied these waters for millennia, once again have a longhouse along its banks.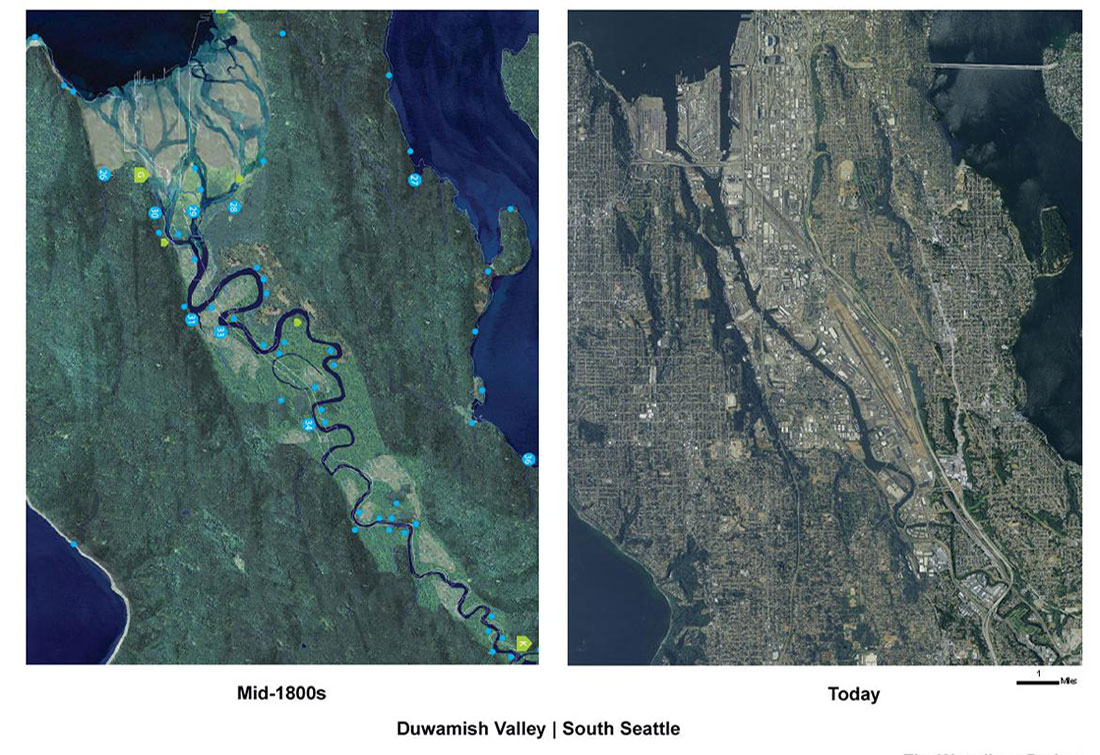 Creating the "Meanders" installation
As part of the Duwamish Revealed project, Waterlines Project team member Amir Sheikh worked in collaboration with civil engineer Zachary Corum, to support artist Frances Nelson in the creation of a large-scale installation called "Meanders."
Meanders is an interpretation of one of the old meanders of the Duwamish that ran through what is now South Seattle College's Georgetown campus in the Georgetown neighborhood of Seattle. The site was the location of the King County Poor Farm and the area of initial dredging and filling along the Duwamish River in 1913. This installation literally "reveals" the history of the river beneath your feet at the site.
In order to do this, the team researched historical data and context around the vicinity of the site. Here are some of the materials we used: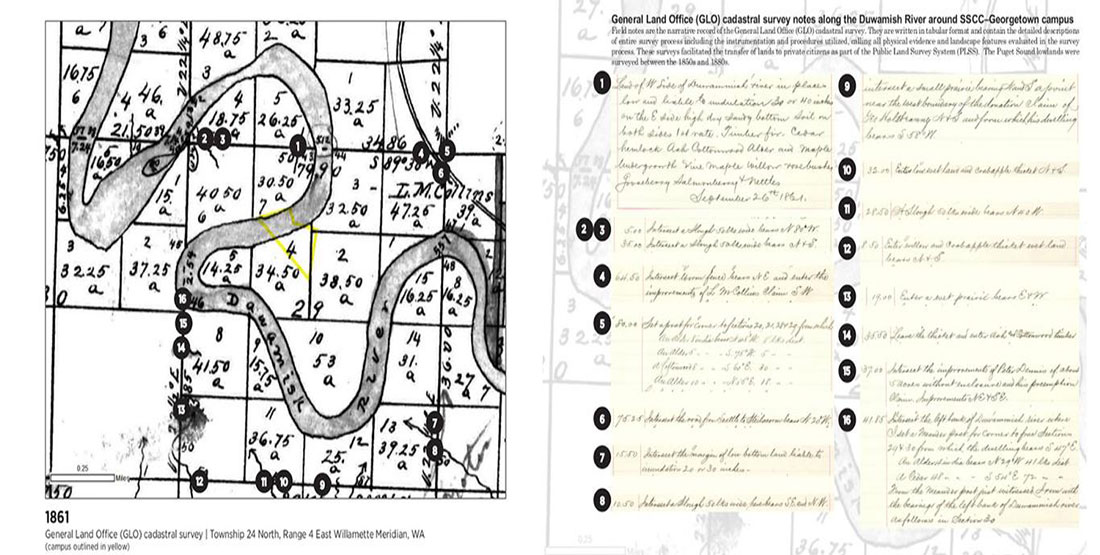 Article Source: Burke Museum