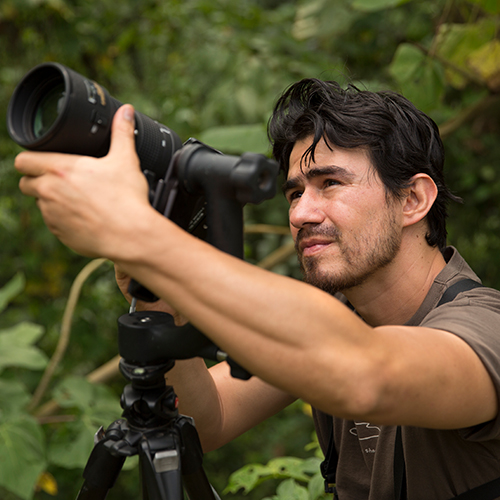 Dr. Rico-Guevara is a biologist from the Universidad Nacional de Colombia, with a PhD from the University of Connecticut supported by Fulbright, and a postdoc research position as a Miller Fellow at UC Berkeley. He received the Pitelka Award for excellence in research by the International Society for Behavioral Ecology, the Outstanding Student Paper Award by the Organization for Tropical Studies, and the Best Doctoral Dissertation Award by the UConn EEB Department. He is the author of 20 peer reviewed publications, 16 as first author.
"I firmly believe that as biologists we have both the privilege to learn about the wonders of nature and the responsibility to share what we have learned not only with other scientists, but, perhaps more importantly, with the wider community," Dr. Rico-Guevara said. Since 2011, several of his papers have been featured by news media (New York Times, NPR, National Geographic Magazine, and others), and his research has been highlighted in five nature documentaries/TV series.
His curatorship at the Burke is a joint position, where he works half-time at the museum, and half-time as an Assistant Professor at the University of Washington Biology Department. His position officially starts December 1, 2019. Dr. Rico-Guevara is the 13th curator at the Burke and is joining Dr. John Klicka as the second Curator of Ornithology, and he will be appointed as the first Walt Halperin Endowed Professor of Biology.
"To me, science communication is one of the most important aspects of being a researcher, and it encompasses reaching as many diverse groups as we can; for instance showing kids all the cool things in nature and how to take care of them, and also highlighting the importance of scientific endeavors to everyone involved in societal decision-making," Dr. Rico-Guevara said. "At the Burke, I will do my best to do great science, and to disseminate it as broadly as possible, taking advantage of the dynamic exhibits and the behind-the-scenes for all design."
Research projects Dr. Rico-Guevara will launch at the Burke Museum include strengthening the ornithological collections (boosting the largest spread wing collection in the world) through international partnerships, as well as projects on aerodynamics, aggressive displays, energetics, and sexual selection of hummingbirds. In addition, he plans to take advantage of UW Biology's strengths on CT scanning to contribute to open access projects such as oVert and explore novel high-throughput methods of 3D external reconstruction (e.g. macro photogrammetry in alive organisms) of particular structures such as bills and wings.
"With their enchanting appeal and unique physical capabilities, hummingbirds captivate people of all ages," Dr. Rico-Guevara said. "As such, they serve as ambassadors to the natural world, which can foster public appreciation for scientific and conservation efforts aimed at preserving these fascinating birds, and the biodiversity upon which they depend."
Article Source: Burke Museum