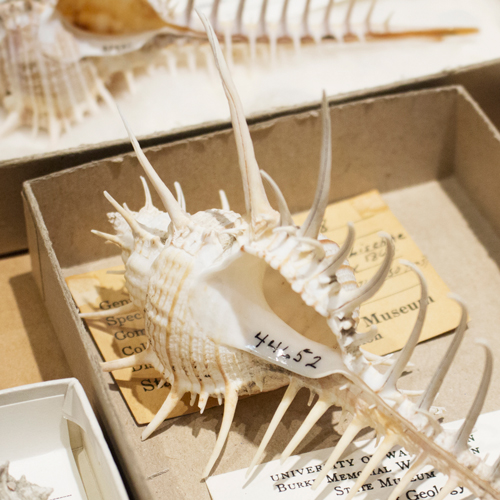 Over the past few months, the digitization process has been taking place in the Burke's Testing, Testing, 1-2-3 exhibit where visitors have had a first-hand look at the impressive shell collection, and an opportunity to speak with Melissa and a team of dedicated volunteers about their work.
The process of cataloguing and digitizing a shell collection can be a bit tedious. Each specimen and its associated data (location, date, habitat, and collector) is assessed for completeness, updated for accuracy, and finally catalogued to ensure efficient tracking. All of this data is captured as a digital record in a database.
But the hard work has paid off, and the shell collection is now searchable on the Burke Museum website.
Thanks to a grant from the Institute of Museum and Library Services (IMLS), the Malacology collection will be rehoused in the New Burke where the public will be able to see more of the collection along with collection work.
"We never know what a specimen will be used for in the future. It's important for us to create a record of what we have, when we received it, and where it's from," said Melissa. "I'm excited about sharing that with the public."
Article Source: Burke Museum