A study conducted across 44 countries in Asia and Europe found that nations that enacted face mask policies early in the pandemic reported significantly lower COVID-19 related deaths per million people than countries that did not adopt mask mandates.
Countries without mask mandates saw COVID-19 death rates of 288 per million people on average, while countries with mask mandates saw a rate of 48 deaths per million people on average, according to the study published in the American Journal of Preventive Medicine. Countries in the U.S. and Canada were not included in the study because mask mandates were enacted at a local level and not nationally.
Meanwhile, health officials in Washington confirmed a multi-county COVID-19 outbreak linked to high school wrestling tournaments. The estimated 200 cases of COVID-19 prompted officials to require K-12 athletes and coaches to get tested more frequently even if they are fully vaccinated.
We're updating this page with the latest news about the COVID-19 pandemic and its effects on the Seattle area, the U.S. and the world. Click here to see previous days' live updates and all our other coronavirus coverage, and here to see how we track the daily spread across Washington.
Navigating the pandemic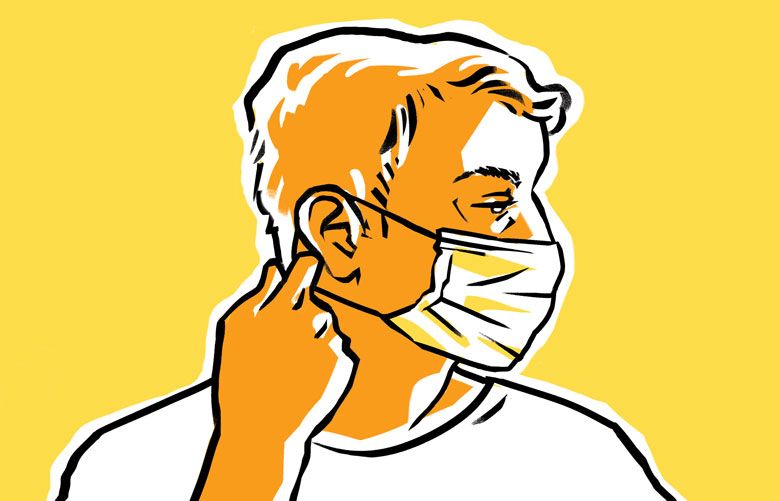 Could humanity catch a break with omicron?
In the weeks since the omicron variant made its presence known, scientists have braced themselves for yet another nasty surprise from a virus that has killed more than 5.3 million and sickened hundreds of millions more. But as they sort through preliminary data on the strain, they're cautiously considering an unexpected possibility: that with omicron, the coronavirus may finally be cutting humanity a little slack.
There's still plenty of reason to worry: Omicron has spread to at least 77 countries, found its way to at least 35 U.S. states, and is on track to become the dominant strain in Europe by mid-January.
According to a raft of lab tests and population studies in South Africa, where omicron is surging, the variant has cut deeply into the Pfizer-BioNTech vaccine's ability to prevent new infections. And compared with delta and other variants, it is much more likely to reinfect people who have already recovered from a bout with COVID-19.
At the same time, there are intriguing signs that with omicron, the coronavirus has taken a turn for the milder.
South African adults infected during the omicron surge were 29% less likely to be hospitalized for COVID-19 compared with their countrymen who were sickened during the first wave of cases there in the summer of 2020. And compared with past waves, adults hospitalized with omicron were less likely to be admitted to the intensive care unit, or to need costly and intrusive levels of hospital care.
All of that suggests that in a world dominated by omicron, the proportion of infected people who die could fall well below the 1% to 2% death rate that's prevailed across much of the pandemic. Likewise, the surges in hospitalizations that have strained healthcare systems and exhausted medical professionals could be dampened.
—Melissa Healy, Los Angeles Times
Omicron will bring about 40,000 new COVID-19 cases a day in Florida by February, UF model says
MIAMI — University of Florida researchers are projecting the highly contagious omicron variant will lead to about 40,000 new COVID-19 cases a day in Florida by its February apex, around 75% higher than what the state witnessed during the peak of the delta variant.
But the new COVID-19 wave will be less lethal for Floridians than delta, according to the University of Florida model published Friday.
The report, produced by three UF researchers at the Emerging Pathogens Institute at UF, projects four different scenarios about how the COVID-19 situation may play out in Florida considering transmission, the ability for the virus to evade natural or vaccine immunity, and the severity of the disease.
"We may see an awful lot of infection," said Glenn Morris, the director of the institute and professor of medicine specializing in infectious diseases. "What contributes to that is that it is highly contagious and you really need to have a strong immune response to avoid getting infected."
The institute has been working on models for Florida since the beginning of the pandemic; two weeks ago, the team decided they needed new models factoring in omicron.
Given what is known about the omicron variant, and the data that were available when they started producing the models, the experts concluded that the most likely outcome would be more cases and fewer deaths. Other possible scenarios noted in the report: lower transmissibility and low severity, lower transmissibility and moderate severity, and high transmissibility and moderate severity.
—Ana Claudia, Chacin Miami Herald
Europeans reimpose restrictions as omicron sweeps continent
LONDON (AP) — Nations across Europe are moving to reimpose tougher measures to stem a new wave of COVID-19 infections spurred by the highly transmissible omicron variant, triggering calls for protests from Paris to Barcelona.
As case numbers escalated, alarmed ministers in France, Cyprus and Austria tightened travel restrictions. Paris canceled its New Year's Eve fireworks. Denmark closed theaters, concert halls, amusement parks and museums. Ireland imposed an 8 p.m. curfew on pubs and bars and limited attendance at indoor and outdoor events.
London Mayor Sadiq Khan underscored the official concern about the climbing cases and their potential to overwhelm the health care system by declaring a major incident Saturday, a move that allows local councils in Britain's capital to coordinate work more closely with emergency services.
Irish Prime Minister Micheál Martin captured the sense of the continent in an address to the nation, saying the new restrictions were needed to protect lives and livelihoods from the resurgent virus.
"None of this is easy," Martin said Friday night. "We are all exhausted with COVID and the restrictions it requires. The twists and turns, the disappointments and the frustrations take a heavy toll on everyone. But it is the reality that we are dealing with."
— DANICA KIRKA, The Associated Press
Health officials predict another COVID surge in Oregon
PORTLAND, Ore. (AP) — Following three confirmed cases of the omicron variant in Oregon, health officials warned on Friday that the state may face its worst COVID-19 surge in the coming weeks, with the number of patients hospitalized more than doubling the pandemic's peak.
As local scientists predict that the state has a three week window to prepare for the next surge, Gov. Kate Brown and health authorities are urging people to get their COVID-19 booster shot.
"Today's forecast is a warning we can't ignore. Like a tsunami alert, the (Oregon Health & Science University) forecast is telling us that a big wave is coming," said Patrick Allen, the director of the state health authority. "And it threatens to be bigger than any wave we've seen before."
Officials say the threat that the highly transmissible omicron variant poses is "deeply troubling and demoralizing," especially as hospitals continue to struggle with staffing shortages and limited available beds due to the surge caused by the delta variant.
As of Thursday, 389 people with COVID-19 were hospitalized in Oregon. There currently are only 57 available adult intensive care unit beds and only 94% of the state's adult non-ICU beds are full.
"We are approaching this next surge, while still sitting at the halfway point coming down from delta," said Dr. Renee Edwards, the chief medical officer for Oregon Health & Science University,
—ARA CLINE, The Associated Press
WHO: Omicron detected in 89 countries, cases doubling fast
VIENNA (AP) — The omicron variant of the coronavirus has been detected in 89 countries, and COVID-19 cases involving the variant are doubling every 1.5 to 3 days in places with community transmission and not just infections acquired abroad, the World Health Organization said Saturday.
Omicron's "substantial growth advantage" over the delta variant means it is likely to soon overtake delta as the dominant form of the virus in countries where the new variant is spreading locally, the U.N. health agency said.
WHO noted that omicron is spreading rapidly even in countries with high vaccination rates or where a significant proportion of the population has recovered from COVID-1levels of population immunity
It remains unclear if the rapid growth of omicron cases is because the variant evades existing immunity, is inherently more transmissible than previous variants, or a combination of both, WHO said.
Other major questions about omicron remain unanswered, including how effective each of the existing COVID-19 vaccines are against it. Conclusive data also does not exist yet on how ill omicron makes COVID-19 patients, the health agency said.
WHO first labeled omicron a variant of concern on Nov. 26.
—The Associated Press
Seattle Times staff & news services
Article Source: The Seattle Times