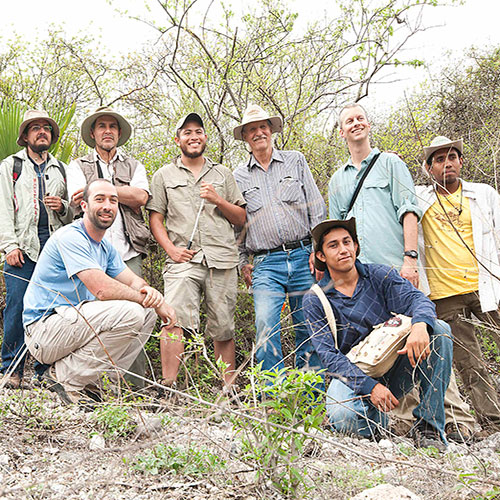 After months of planning and preparation, Adam and Jared set out for Mexico, where they joined professors and students from the Universidad Nacional Autónoma de México to form a top-notch lizard-catching field team.
The Mexican landscape is hostile at best, and the horned lizards they were looking for are notoriously difficult to catch (part of the reason they aren't already in many collections!). According to Jared, the lizards are easily camouflaged in a wide variety of landscapes and can stay still—very still. "They don't move," he explained. "Not even if you step near them."
The team traversed many acres of land, fending off scrapes and cuts from thorny branches and cacti for three days, with no luck finding horned lizards. Their task became even more difficult when hurricane Carlotta blew in.
After a frustrating first few days, the team headed to Chilpancingo, Guerrero, after locals notified them of horned lizards in the area. "The sun had come out for a little while and the lizards were out," said Jared. They quietly watched as two male giant horned lizards bobbed their heads and wagged their tails at each other while competing for a female. "You feel like you are looking back in time when you see their horns, scales, and eyes," said Jared.
Article Source: Burke Museum