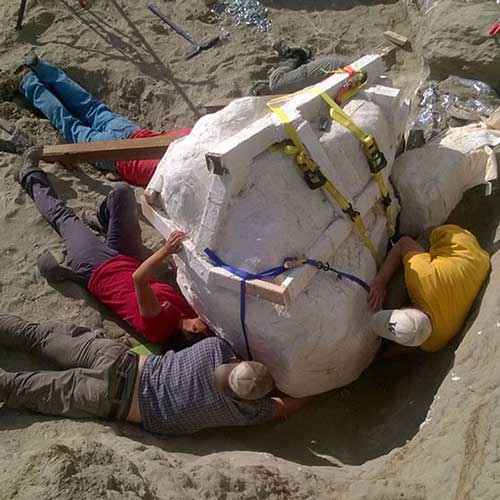 The skull excavation continued, revealing that the entire right side was intact from base to snout, including teeth.
Wilson and his team believe the other side of the skull is likely present. "There's a very good chance that the other half of the skull is there," said Wilson, "but the more we expose [of the skull out in the field], the greater the risk of damage."
They're waiting to carefully remove the rock surrounding the fossil back at the Burke Museum before they can determine its completeness. Already, this is one of only 15 reasonably complete skulls in the world.
With the one side of the skull exposed, the team found it measured more than four feet in length and just under three feet in width.Based on the size of its skull, Burke paleontologists estimate this dinosaur is about 85% the size of the largest T. rex found to-date. At the hips, the T. rex stood 15- to 20-feet-tall and was as long as a city bus from tail to head, more than 40 feet in length!
Article Source: Burke Museum