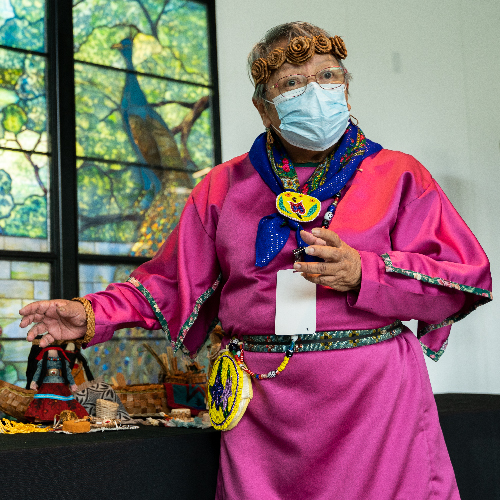 Finally in September 2021, members of the artist family presented Intertribal Potlatch, a multimedia collection of five woven cornhusk dolls that represent each member of the artist family. They had also handmade a model cedar bark canoe, a variety of miniature baskets, beaded bags, drums, textiles, salmon, jewelry, traditional foods, a cradleboard, and more.
Celeste Whitewolf and D'Ana Valenzuela presented the elaborate new piece to the Burke and shared details from their artist family fellowship grant. While there was funding to purchase an artwork from the group, the Núun ken'witnéewit family decided they wanted to donate this final work as a gift of gratitude to the Burke. In return, the Burke Museum's Tribal Liaison, Polly Olsen (Yakama) and the Bill Holm Center staff gifted the artist family members in appreciation of their work and our ongoing relationship.
See one, Make one, Teach one
The Núun ken'witnéewit artist family were the first to receive the then new Artist Family Fellowship grant from the Bill Holm Center. This fellowship program was created in 2018 at a time when the Burke collections were closed to visiting researchers as we packed up and moved into our new building. ​​It supported travel to other cultural institutions in the Pacific Northwest and Plateau for a group of Native artists to study, create, and teach an artform of their choosing . We used the term "artist families" similarly to "canoe families," where participants are not necessarily related by blood, but related through their shared goals and practices in their art forms.
"​​The most impressive lesson learned during this trip was how well the Núun ken'witnéewit support each other," Celeste Whitewolf said. "Family issues, physical limitations, financial concerns, nutritional needs, and health challenges were shared among the group. It was quite evident that each person cared for the other members and are developing strong familial ties."
Article Source: Burke Museum