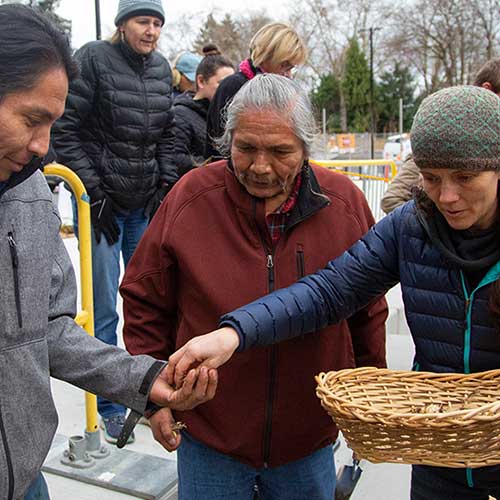 Creating Your Own Land Acknowledgement
First and foremost, we ask that other organizations do not copy the museum's land acknowledgement as your own. It is humbling to have others reach out for advice. However, at the Burke, we are on our own journey. We have much to continue to learn.
I encourage you to take on this deeply important work in a way that is authentic and meaningful to your organization, and done in consultation with tribes and Indigenous communities.
Setting your Intention
While land acknowledgements are an important way to recognize the Indigenous peoples who have resided on the lands you're on since Time Immemorial, the intent behind—and how you develop a land acknowledgement—are as important as the words themselves.
If you would like to develop one, take time to reflect and ask yourself some important questions that will guide you in doing the work in a thoughtful, meaningful way. Ask yourself questions like:
Why now? Why are you creating a land acknowledgement at this time?
Are you doing this to check a box?
Are you doing this because of the social justice issues going on and this your attempt to figure out how to move forward in having conversations about colonial harm? Has your organization itself been a part of the harm?
What is your relationship with the original stewards (tribes, bands, Indigenous peoples) of the lands you stand on?
What process of reconciliation has your organization done to address the displacement of Native peoples?
Land acknowledgements are also a way to change the narrative of the history and break down the unconscious bias through the historical context and education we've had through our Western educational system.
With this lens, additional questions to consider are:
Are you leading this to break down the stereotypical biases of Native peoples?
Are you willing to bring Tribes to the table?
What is your end goal and the type of impact you're making to your audience?
The concept of whose land you are on is complicated. It is a part of the colonial legacy of the United States and many other countries. Indigenous peoples historically didn't have the boundaries that were enforced on them through reservations and the forceful removal from their ancestral lands. Many tribes and Indigenous peoples often shared the same lands and territories. It is important to consult with as many local tribes as possible, and not assume today's boundaries reflect the ancestral territories that once stood.
If you are interested in developing your own land acknowledgement, we recommend the Native Government Center's (NGC) guide to Indigenous Land Acknowledgement. Among other recommendations, the NGC encourages land acknowledgements to not be grim, use language that is empowering to Indigenous peoples, and upholds the people and cultures that are still present today.
Article Source: Burke Museum