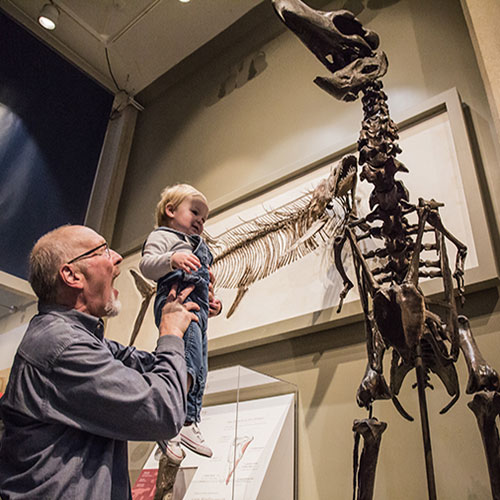 Lines formed outside as people came from surrounding neighborhoods, cities, and regions to experience the current Burke Museum one last time (or for the first time for some), reflect on the special memories, and celebrate the future of the Burke Museum in its new home.
Inside the museum, visitors painted a large-scale geologic timeline on the walls, perused galleries, posed for photos with the beloved 17th century French wood paneling backdrop, got face-to-face with the T. rex skull, shared their favorite memories at the Burke, and attended "Tiny Talks" led by Burke staff and volunteers highlighting their latest research and recent (re)discoveries of stories revealed in the process of moving into the New Burke. Special guest artist/storyteller Ty Juvinel (Tulalip) shared his story, "How Mouse Moved the Mountain" with visitors.
We've compiled some of our favorite highlights from Final Free Week. Thank you to everyone who came to celebrate as we begin this exciting next chapter in the Museum's 130-year history.
Article Source: Burke Museum